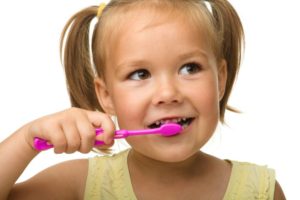 As a parent, you would want your kids to be healthy and well-groomed when they grow up. This is why it is important to teach them the right habits from an early age. While exercising, going to bed on time, and eating healthy is important, you also need to pay attention to their dental health. Kids usually eat their fair share of candy and other junk items which can wreak havoc on their teeth. Not to mention, they need to be taught that they have to brush their teeth at least twice a day and floss them at least once. To make things easier, with dentistry for children you can inculcate healthy dental habits in your kids:
Make dental care fun for them. Get toothbrushes which depict their favorite characters and kiddy toothpaste which tastes better than the fluoride-based one you are probably using. This will ensure they don't view brushing their teeth as a chore.
You can incorporate music into the routine. Pick a song your kids like and play it when they are brushing their teeth or flossing. Ask them to keep going till the song ends, which will get them to keep brushing for the time required.
The most important habit you should teach them is to brush their teeth right after eating candy to ensure plaque doesn't build up. You can show them animated videos online of how plaque and cavities can harm their teeth and how painful they can be. At the same time, it is important to teach them not to brush their teeth right after drinking soda, as it is acidic.
Last, but not least, make visiting the dentist a fun experience for your kids. Kids generally are afraid to visit the dentist and this habit can carry on into their later years. This is why it is important that you portray the dentist as a friendly being who is there to help your kids. You can treat your kids to ice cream on the way back or take them to an amusement park, something which distracts them from the discomfort.
So, start following these tips now and you will raise kids who have perfect pearly whites for life and don't have to deal cavities, plaque, and other such dental health issues.