What are Dental Implants?
A dental implant is a highly requested prosthesis in the field of cosmetic dentistry. Invented in the early 1950s, a dental implant is the present-day gold standard for tooth replacement. It was the brainchild of Swedish Orthopedic surgeon, Per-Ingvar Brånemark.
Why Are Dental Implants Important In Cosmetic Dentistry?
Despite astronomical advancements in dentistry, millions of Americans experience tooth loss. The most common reasons why people lose their teeth are –
Gum disease
Trauma or injury to the mouth
Before there was a dental implant, there were dental bridges and dentures. The latter two were the go-to prosthesis for replacing a missing tooth or teeth. While they are still used today, certain drawbacks make dental implants the preferred choice.
What Is Involved In Dental Implants And Cosmetic Dentistry?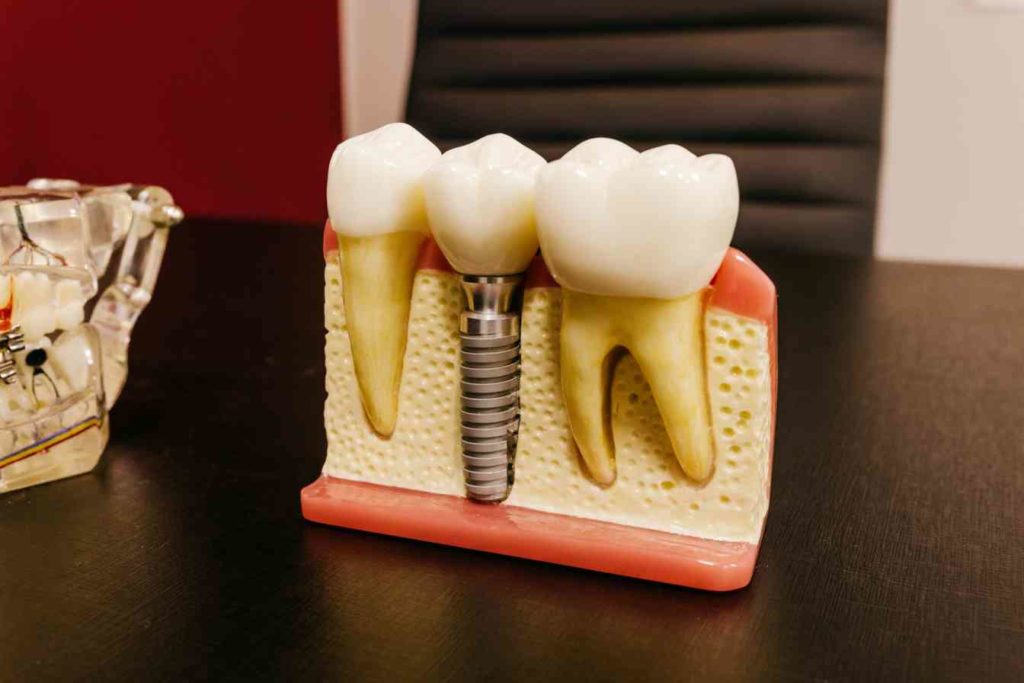 Dental implant procedures are usually performed by an oral surgeon or a cosmetic dentist. The process involves the placement of an implant within the jaw bone. Once it heals, the tooth replacement adds on top of the implant.
The dental implant process consists of three main steps –
Placing The Implant Post
This is the part of the implant that mimics the natural tooth root. It is embedded into the jaw bone surgically. After the surgery is complete, the patient is sent home to recover for 6-12 weeks.
Placing The Connector
Connectors, by definition, connect the base to the top. An implant connector is adjusted on top of the implant post. This is further topped by the tooth replacement.
Placing The Artificial Tooth/Teeth
The replacement prosthesis can be either –
A dental crown – replaces a single tooth
A dental bridge – replaces several teeth
A denture – replaces all of the teeth in the oral cavity
Who Can Opt For Cosmetic Dentistry And Dental Implants?
Unlike most other cosmetic dentistry treatments, the eligibility for dental implants is very specific. The dentists advice patients with chronic illnesses, smokers, and those with poor oral health against a dental implant.
Your cosmetic dentist will be able to ascertain whether you can be opt for a dental implant or not. Eventually, the dentists provide their recommendation after a thorough oral and digital examination.
Does Health Insurance Cover Dental Implant Surgery?
Because dental implants are mainly a cosmetic procedure, most insurances do not cover the cost of dental implant surgery.
However, some coverage may be possible under your medical insurance, depending on the following factors –
The kind of insurance plan
The cause of tooth loss
There are a couple of cases where health (medical) insurance covers dental implant surgery and tooth replacement procedures. These are usually for people who don't have any teeth, resulting in medical complications. Coverage is applicable if –
You lose your teeth due to trauma
If tooth loss occurs due to a medical condition
Loss of teeth because of cancer treatment
Teeth that are missing from the beginning, i.e. congenitally absent.
The individual policy decides whether or not you will get the coverage. In most cases, medical coverage is pretty rare.
Which Dental Plans Cover Dental Implants In Cosmetic Dentistry?
As a general rule, dental insurances follow the 100-80-50 guideline. This means that –
Preventive treatments have 100 coverage. This includes regular dental check-ups, X-rays, along professional teeth cleaning. Usually, you get coverage for two preventive visits in a year.
Basic procedures such as simple extractions, cavity restorations/fillings, and deep cleanings have 80% coverage.
Root canals and restorative treatments like dental bridges, crowns, and dentures 50% coverage. These are the major services. Some dental insurance plans might partially cover the cost of dental implant surgery.
You must find out all the information from your insurance provider – particularly about any waiting periods and whether they cover a dental implant procedure.
Is Dental Insurance Better Than A Dental Plan?

How Does Dental Insurance Work?
The way dental insurance functions are similar to medical insurance. You or your employer have to pay a monthly premium. If there is a deductible and it is applicable, the insurance pays either all or part of the dental expenses that qualify. Moreover, there is a stated maximum in the insurance plan.
The insurance company usually pays the dentist directly. On the other hand, dental indemnity plans function through reimbursement. Meaning you have to foot the entire bill and then seek reimbursement from the plan.
How Does A Dental Plan Work?
Dental plans are pretty different from dental insurance. They don't pay any of the dental expenses you incur. Instead, they provide reduced prices from participating dentists.
Dental plans have the advantage of no deductibles, no annual maximums, and no waiting periods. Typically, the discounts range from 10-60% for regular dental work.
To make things simple, if your oral health is okay, you can invest in dental insurance. However, if you are expecting multiple trips to the dentist and your oral health is not good, a dental plan is the way to go.
In-House Dental Plan At Brooklyn Boulevard Dental
If your google search for a "dentist near me" or "cosmetic dentist near me" results in Brooklyn Blvd Dental showing up, skip the fuss and come down to us.
If you don't have dental insurance, you can take advantage of our in-house dental plan to help you achieve significant savings. And that too, without compromising on quality care! As such, there are separate plans for adults and children who are 13 years and younger.
Along with a sweet discount on our services, the Brooklyn Blvd Dental Plan also offers –
Dental exams per year x 2
Routine professional cleaning or 1 periodontal service (maintenance) x 2
Fluoride treatments in a year x 2
Any necessary X-rays
To find out more about our dental plan, dental implants, and the various other services we offer, book an appointment today.
Doctors Kotonias, Spanish, and Tu are our dental experts who provide top-notch treatments and place prime importance on patient care. With state-of-the-art equipment and an extensively trained staff, your family's dental needs are taken care of at Brooklyn Boulevard Dental.
Call us at (763) 533-8669 or request an appointment to achieve your best and brightest smile.